Beautiful Gates and Railingsfor Sale in Ireland
Welcome to Steelweld, the specialists in gates and railings.
We have many years of experience in manufacturing made-to-order gates for sale in Ireland. Whether you are looking for stunning wrought-iron gates, robust security doors or solid steel gates, we can build the gate of your dreams. We supply and install gates of all types in an array of beautiful designs.No matter where you are in Ireland, simply let us know what you need, and we will take care of the rest for you. We also provide restoration services for existing gates and railings.
Beautiful Gates that
Last a Lifetime
At Steelweld, we believe in delivering products that not only look beautiful but stand the test of time too. We don't see any value in supplying attractive gates that break or fall down within a few months of installation.
Our warranty covers all aspects of the structural integrity of the welding.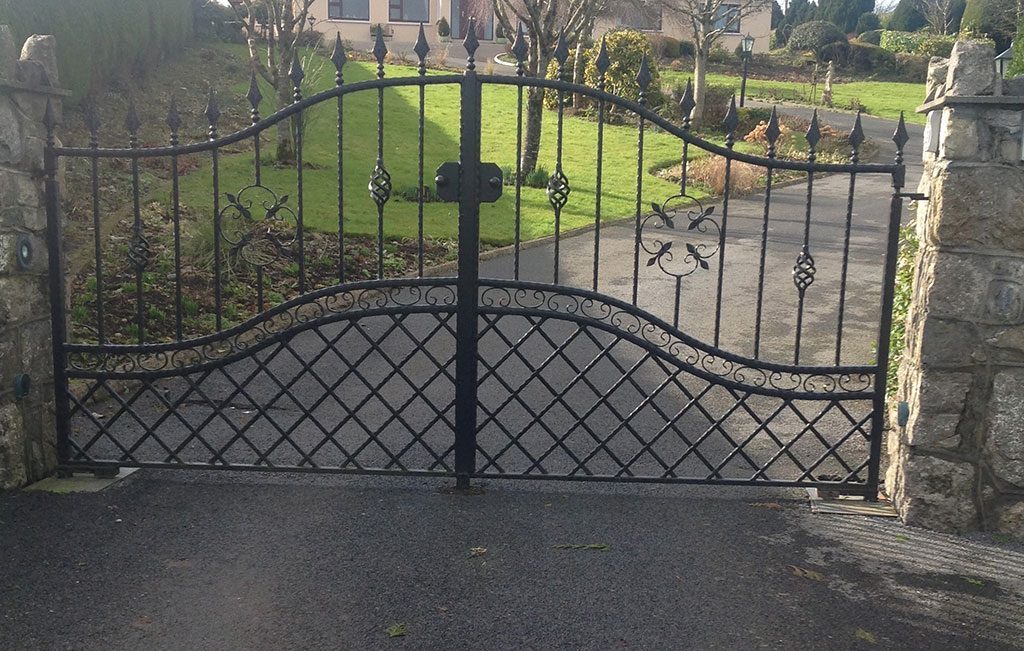 Made-to-Order Gates and Railings in Ireland
We have been manufacturing, supplying and installing premium quality gates in Ireland for more than 20 years. We strive to build products that meet your requirements and expectations. Through our fully integrated manufacturing and installation process, we are able to deliver exactly what you are looking for providing complete efficiency and flexibility.
With our experience we can assure you of the highest standard of quality. We work with architects, contractors, construction companies, engineered, offices and home owners to design and deliver bespoke metalwork. Whether you are a homeowner looking to replace your garden gates or a commercial company looking for a custom job, we assure you of the same level of service and professionalism
A Sneak Peak into
Our Process
During the initial on-site meeting, we will listen to your ideas and requirements. We will guide you through our portfolio of designs. Alternatively, we are happy to work from your idea, a picture or even a drawing. Simply tell us what you are looking for, and consider it done. Next, your consultant will take accurate measurements of the site. We will then prepare a no-obligation quote and submit it for your approval. Once you approve the quote, we will then manufacture it to the highest standards. Once the gate is ready, we will deliver it to the site and install it to the specifications.
Why Choose Steelweld

More than 20 years of experience in metalwork.

Made-to-measure gates to suit your requirements.

All manufacturing is handled at our workshop.

Nationwide Service.

Choose from the widest range of designs and possibilities.

Flexible, professional and comprehensive service.

3-year warranty on all our products.

All our products are manufactured from high-quality steel.
Competitive pricing.
Have a bespoke project in mind? Share your ideas with us and we will breathe life into it. Request a free quote.

Mary
Athlone

Thanks Steelweld for my new fire grate. It was made to measure and fit like a glove in my fireplace. I contacted you a few weeks before Christmas and I was delighted when you rang to say it was ready to be installed, all in time for Christmas. My family and I enjoyed sitting in front of the fire over the cold, wet Christmas nights. Thanks again.

Peter
Kildare

I would recommend Steelweld. Delighted with our new gates to secure our property. Peace of mind when the summer comes that our kids will be safe when out playing in our garden. Cheers.

Joe
Oranmore, Co. Galway.

Thanks David for all your help and advice. We are delighted with our new gates and railings. You took everything we wanted into consideration and you advised us about what would suit our property best. You were efficient and very professional to deal with. I would have no problem recommending Steelweld.